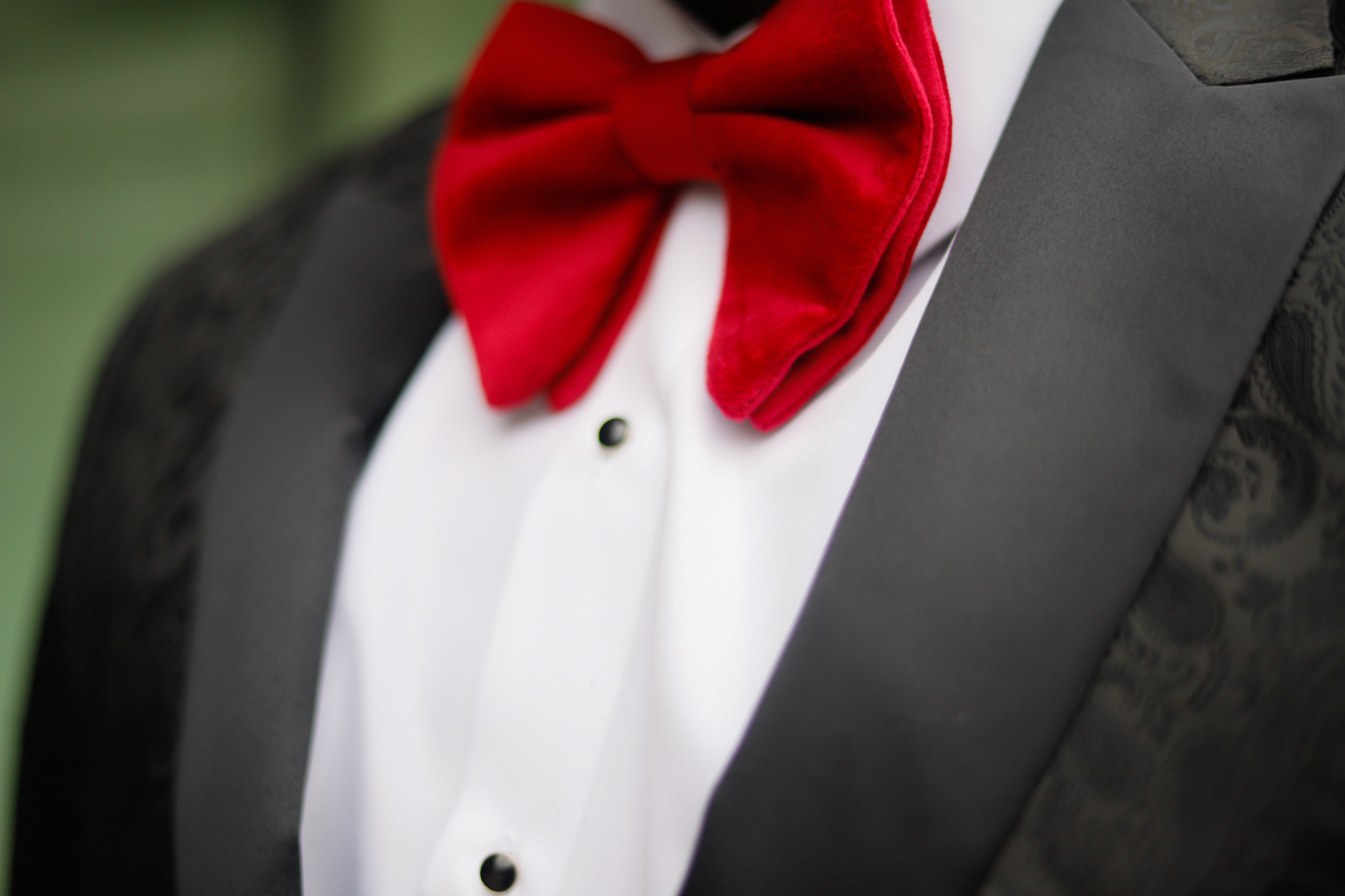 Tuxedo Etiquette
What's the proper fit for a tuxedo?
THE COAT: Depending on the fit you are going for (i.e. slim, modern or classic), the coat should hug the shoulders perfectly. On most styles, the body should be long enough for the coat to brush the insides of your fingers when your hand is cupped around the bottom.
SLEEVES: Each should fall just below the wrist bone.
COLLAR: Sits flush against your shirt collar and allows 1/2-3/4 inches of shirt collar to be visible above that of the jacket.
TROUSERS: Worn at the waist. Snug but not too tight.  Traditional mens' trousers sit at the natural waist near the navel. Trouser legs should get narrower as they get closer to your ankle.  
VESTS: The vest should lay smoothly against your body while still looking slim.  There should be no pulling at the buttons and little stress around the back.  
When should I select my wedding tuxedos?
ANSWER: Once the bride has picked out her color scheme, the tuxedos can be selected. It's never too early. Six to eight weeks will give your groomsmen enough time to get fitted.
Are formal wear rules different in the summer?
ANSWER: A black tuxedo is perfect in every season. Most of our tuxedos are made of tropical worsted wool, which is an all weather fabric. For a summer event, you might also want to consider one of our super 100's tuxedos which is lighter in weight. A white, ivory, or grey tuxedo is also appropriate.
What is the proper attire for a white tie affair?
ANSWER: White tie affairs are very formal events. The proper attire is as followed: Black tailcoat, black trousers, white pique' wing tip shirt, coordinating pique' bowtie and vest, pearl and silver studs and cufflinks, black patent tuxedo shoes. Guest are highly encouraged to dress the same.
How to Pin on a Boutonniere
1: Before you pin it on, make sure that the flower is in the front with all of the greenery arranged behind it.
2: Pin the flower on your date's lapel or just outside the broadest part of the lapel on his left side, which is to your right.
3: Place the head of the pin under the lapel and push the point through the coat, into the boutonniere and back through the coat.
4: Make sure it hangs straight, and you are good to go!